By their very nature, Cairn Terriers are "big dogs in a small package", ideal for those who want the sturdiness and hardiness of a larger breed but, for many reasons, prefer these qualities in a smaller size. We often call this breed "little Mack trucks with hair" because of their toughness -- both mental and physical. Cairns make great family pets as a result. Most Cairns are born with a "kid-loving gene" that makes any child a "Cairn magnet".
Adaptability certainly is a key trait in the Cairn Terrier, making this breed equally at home in a rural or an urban setting -- in a home with children or with "empty nesters". Simply remember that this is a working terrier and no "couch potato". Cairns demand regular, vigorous exercise and do much better on the "get-a-job-program". In other words, Cairn owners need to exercise their dog's intelligent mind and energetic body in fun, meaningful work. Such activities can include agility, earth dog trials, fly ball, obedience, therapy dog work, tracking, and other pursuits that engage a Cairn's mind and athleticism.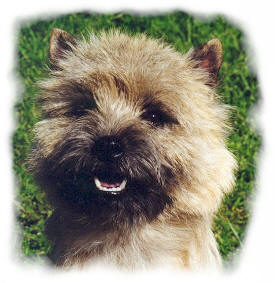 Cairncroft has always been a small, home-centered breeding program. All our dogs live with us in the house as well as enjoying plenty of time in large, securely fenced exercise yards. We take the Cairns for extensive runs several times a week on National Forest land where we encourage their natural hunting abilities. As a result, our Cairn Terriers are well socialized, athletic, companions for the show ring, performance events, or as loving pets. As the motto for the Cairn Terrier Club of Scotland says, Cairns are "the best little pal in the world".
We're pleased to have this opportunity to acquaint you with our dogs. Feel free to contact us with any questions you may have about Cairn Terriers in general or about our dogs, specifically.