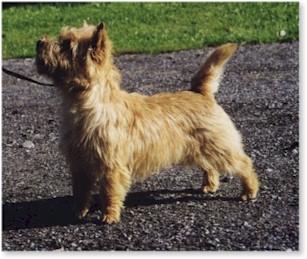 Some of Macho's qualities will add tremendously to the breeding stock at both Cairncroft Kennel and Marquee Cairns: his length of neck, proper body length and proportions, level topline, length of forearm, and straight legs.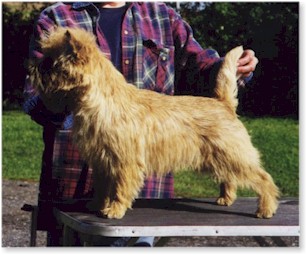 Note also Macho's well let down hocks and the way his neck flows smoothly into his shoulders.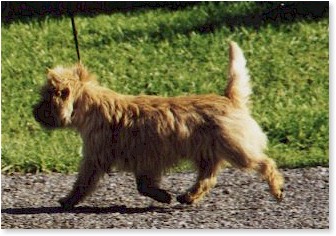 This is where Macho really shines -- moving! The
power and drive of his hindquarters are directed forward by an equally correct front assembly that reaches and extends in perfect harmony and balance with the rear legs. When in an extended trot, Macho's topline remains smooth and level with no wasted "up and down" -- "carousel Cairn" motion.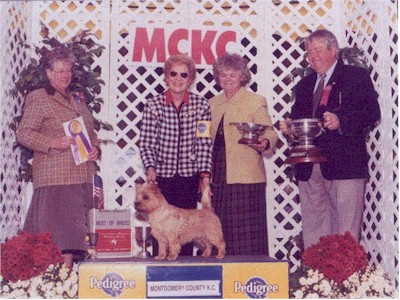 CH.ROBINSON CRUSOE QUITE MACHO (aka, MACHO -- born 10-28-98)
(Int.Ch.TRIBUNS YELLOW SOVEREIGN X DkchFinchKlbch ROBINSON CRUSOE JENNIFER
Imported from Denmark in March of 1999 as a puppy, MACHO showed great promise as a youngster. He has more than fulfilled that promise. MACHO finished his championship with two major Specialty wins. He has accumulated several Best in Specialty Show awards, including the coveted Best of Breed at the C.T.C.A. National Specialty at Montgomery County K.C. in October, 2001. He was only the third Cairn Terrier in the history of the Montgomery County K. C. show to make the cut in the Group competition.
MACHO's greatest achievement by far, however, has been his success as a sire. Already, several of his offspring have earned their championships and many more are pointed and will complete their titles soon. MACHO stamps his get with his unmistakable reach and drive in their gaits. His daughter, FIONA (CAIRNCROFT QUITE A MIRACLE), won the C.T.C.A. National Sweepstakes in 2001. We have no doubt that other MACHO progeny will continue to accrue such achievements. His impact on the breed already is evident through these youngsters.
Our deep gratitude to the late Sonja Scheel, who bred MACHO's litter, and to her daughter, Tine Mathari (KENNEL McALLISTER) who raised the litter after her mother's death. Tine helped us with all the details to import MACHO and his litter sister, TESSA, and she has become a dear friend. We are so blessed to have this extraordinary dog. MACHO is co-owned and loved by Rebecca Stamps of MARQUEE CAIRNS, Trenton, Texas.
MACHO's pedigree:
CH Tribuns Yellow Sovereign
CH Tribuns Frank Zappa
CH Rasken's Rod Steward
CH Tribuns Nike
Tribuns Lili Marlene
CH Tribuns Enrico Ferrari
CH Tribuns Elvira Madigan
CH Robinson Crusoe Jennifer
CH Robinson Crusoe Alberto Tomba
CH Cairndy Kiksekage
Birselaw April Love
Robinson Crusoe Sandy Rose
CH Penticharm Royal Gamble
Robinson Crusoe Hasty Cookie
---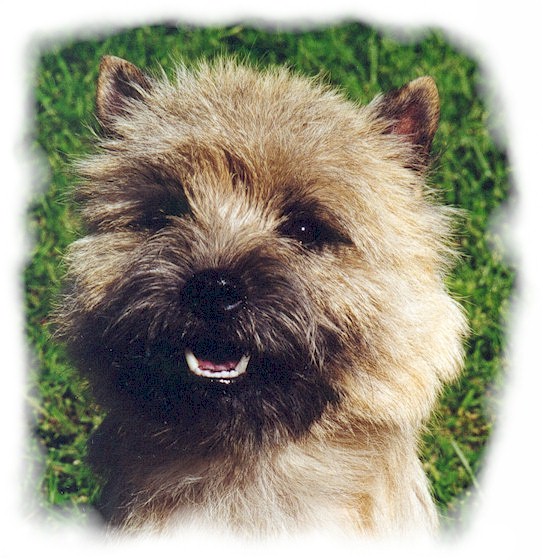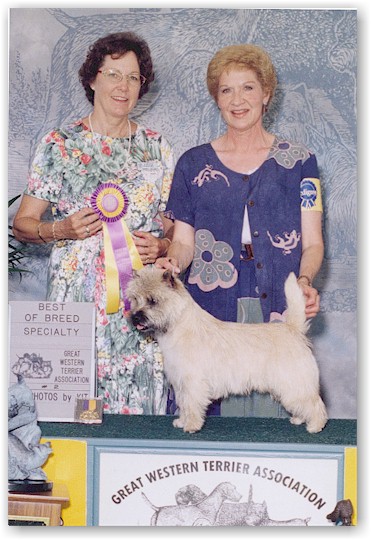 CH.CAIRNCROFT NIGHT HAWK (aka, HAWKINS -- born 9-24-98)
(CH.CALEDONIAN BUCK OF WOLFPIT x CH.CAIRNCROFT LAVENDER N' LACE)
During his show career, HAWKINS quickly completed his championship with all "majors". He was campaigned as a "special" during 2000 on a very limited basis, handled by his breeder/co-owner, and still ranked # 3 Cairn in the U.S. Now retired from showing, he stands at stud to approved bitches. We hope that his offspring will carry on his best qualities: a gorgeous head-piece, lovely hard coat texture and lovely outline and balance. HAWKINS is co-owned with Michael Bruggeman.
HAWKIN's pedigree:
CH Caledonian Buck Of Wolfpit
CH Caledonian Berry Of Wolfpit
CH Pinetop Paperchase
CH London Berry Of Wolfpit
CH Berry Special Of Wolfpit
CH Persimmon Of Wolfpit
CH Razzberry Of Wolfpit
CH Cairncroft Lavender N' Lace
CH Whetstone Reeses N' Pieces
CH Coppeglen Windwalker
Penticharm Scarlet
CH Bramblewood's Murphy Brown
CH Cairmar Scot Free
CH Bramblewood's Reebok