We have owned Cairn Terriers since 1978, but our breeding program began in 1982 with the importation, from Scotland, of PINETOP GOLD DUST, bred by Sally Ogle. Since that time, our goal has never wavered: to breed an elegant, sound Cairn Terrier who covers ground with ease and can efficiently do the work it was bred to do. To this end we have occasionally bred to foreign-born stud dogs or imported animals whose qualities we desired in our breeding program. We believe that this blending of bloodlines, while breeding "to type", has enhanced progress toward our goal. Cairncroft's Cairn Terriers are noted for soundness in mind and body.
Because Cairn Terriers seem to be born with a built-in "kid gene", they were marvelous companions for our son and daughter. As the children reached ten years of age, they showed their Cairns in Junior Showmanship with great success, continuing well into their teenage years. Cairns truly are "big dogs in a small package" -- tough enough for a child's rough-housing, yet small enough in size for easy handling and training.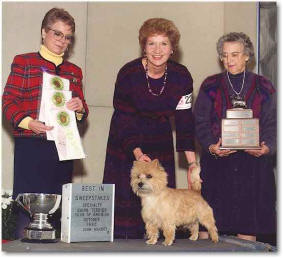 CH Cairncroft Ionhorse 1992

In addition to demanding correct conformation in our dogs, we strive to maintain the Cairn's natural hunting ability. Cairns still perform their historical job as vermin killers with great efficiency, and it's important to us to foster that working ability. The athleticism needed for earth dog work in our rugged Rocky Mountains crosses over to agility training -- which our Cairns love! Titles earned in both the show ring and in performance events will demonstrate our Cairns' versatility.
In addition to the many champions Cairncroft Kennel has produced, we've also bred two National Sweepstakes winners, multiple Specialty Best in Show winners, Group winners and placers, an earth dog title holder, and are working on our first agility title holder. Our dogs are always owner-handled. Now that we are "empty nesters", we hope to have more time to put performance titles on all of our show ring champions.